Review | Ghost of Tsushima
"How does it feel to play as a samurai in an open-world samurai game? I have no idea! But you can try and see if you will feel something different."
Samurais, known also under "Bushi", were fearless warriors from the ancient Japan. Mainly they were fighting the evil, but also against other samurais. They went by the strong codex known as "Bushido"("Way of the Warriors") and they didn't fear death; they always put pride in front of their own lives. The word samurai means "they who serve".
They were also well-educated, politically active elite class. It's a well-known fact that some of them had public gay relationships, which were completely normal there.
Their weapon was a sword known under the name "chokuto", but that was not their only weapon. They were masters of bows (Yumi), spears (Yari and Naginata), weapons made out of wood (bō, jō, hanbo and tanbo), few different wooden and metal bats and many chain weapons.
Women were also samurais.
Once upon a time, there was a Sucker Punch…

Meet Sakai Jin – samurai with a blunt look and even worse facial expressions. He has a good sword though…
Weird are those Japanese, eh? Sucker Punch took the opportunity to present the "weird" as an art. Usually it goes that way, there were many movies telling the story about honour, lives and fights of the samurais. So, that is how this happened.
This studio is known for its InFamous titles and if you remember Sly – that racoon stealing bastard. 6 long years passed and Tsushima happened, a new big open-world game starring cold steel and rivers of blood.

Uncle is all that is left for our poor Jin. Starting battle will point the way of his (our) destiny.
Technical specs of the ancient Japan
First thing first. When you start your journey, you can choose between different audio options (3D sound FTW!), audio (of course, Japanese) and you can lock the FPS with the cost of graphics or the other way around. Go with FPS lock, we all love stable frames and it works very well here.
Maybe different option that what we've used to have is the Kurosawa mode. It's a black & white filter like in the old Akira Kurosawa movies (Seven Samurais). Have in mind that they had to adjust the light effects for this preset, sound is also different and some few other adjustments are made to make it unique and close to those movies.

Cool option inspired by the Japanese classics.
First impressions
When it comes to that, I must say I was pleased. Big battle against the Mongolian army which started the invasion on the Japan (1274.), covered in moonlight was something I was hoping for. Sakai Jin, the protagonist, stands up front besides his uncle. Soon, they all start to be aware that Mongolian methods are simply too much for them. Sakai barely survives and with the help of the lovely thief lady starts his plot on the enemies and to free his uncle. Jin is one of the last samurais that walks the Tsushima.
I really like the beautiful beginning. But…I couldn't not notice the bad facial expressions alongside of their "plastic" animation – both things that ruined the impression. I knew that I will not be pleased with the quality of this aspect and that is usually something that counts when you bond with your character. The whole presentation is not at the high level and that shows.
One thing I love though. When you are all covered in blood and enter the scene, you start talking with your face all in red. That is cool.

Really, beginning was good. I'm really sorry that the rest is not at that level.
Deep impact or simply shallow?
I never felt any connection with characters from this game, like for example in RDR2 or in The Witcher 3. The story is just not strong and told in that manner, plus what I explained above. There was some point at the middle of the game where I couldn't remember the name of my character. Awkward.
Even though the recipe of this open-world game is trying to get away for generic approach I give the content a fresh note, when it comes to the story and side stories, I can't say the bar is very high. "Important side stories" are sometimes decent, but those typical fetch quests are awful. They are boring and I honestly don't remember anything good from them. I would recommend playing the main story and doze yourself with side stories when you see fit. The whole Ghost philosophy and the theme around the honour was solid, at least at its core. Just be careful about wondering around the world, it will ruin the pacing and like I said, you will have troubles of following the story even without this.

Occasionally expect flashbacks. This location full of red leaves is one of the best in this game.
I just can't go over the implementation of all the stories. No matter what you play, everything is always the same: Go there, kill, crouch, stealth, look at those 3 objects, follow the tracks…Oh my God! Why the heck is everything so generic? You will be fed up with these in the first region and there are 2 more to go through. Don't feel discouraged, there are some good things as well!
"The good stuff"
Even though all the Mongolian camp are copy pasted, the nature that you will go through is really nice. You will love when you crouch in the grass and slit the throats. Animations are meaty, they have that special feel which you will love and therefore love doing this. I was satisfied with the killing, even after many hours in the game. Expect some weird animations sometimes – few times I was slitting the throat of air, while the enemy way 1 meter away. It happens. They will patch it.
Oh, remember that beautiful white grass from the beginning of the Sekiro? They've stole it!

I would be honest to say that his is cool. Jumping and killing from the air is so good.
The Island of Tsushima – The beginning and the end
Tsushima is an island where you start your journey. As a matter of fact, it is where you will spend all of your time. It's the world covered with white leaves, red flowers, tall white grass, beautiful landscapes…The most fun I had was while just exploring it, listening to the bird chirping, calm music and sound of the wind. Some rain drops will not ruin the fun. Foggy (see what I did there?) and depressive weather will not change all that, it will just wash away the blood of your blade and moist the thirst for revenge.
I would love to see this world filled with stories that matter. When you climb in Price of Persia style, jumping across the mountains, paying respects to secret shrines and altars…Calming and fun.

The empty basked is a perfect description how those fetch quests feel like.
Let's not overpraise the game. The platforming can be a headache, especially when you jump. Often you will jump on some object not designed to be landed on. You will now float while barely moving, trying to maneuver on some landing position. The grapping mechanic also feels broken on some occasions.
It feels great when some side story takes you to the purple mountains all covered in flowers, when you find some secret cave and explore…But, the world is just empty. Even the fun platforming will not change that.

Visiting the top of the Shinto Shrines is one thing you need to pursue. Breath-taking experience.
So, like it was said, big part of the whole content feels like a filler. Somehow I doubt that many of you will interesting raiding numerous camps out of which maybe 2 are unique, while the others are just the same locations filled with random root and interiors. I don't want to spoil everything you can find in this game, so I will just say there are fun things to do and find, and those a little less fun. Everyone can find something for themselves. Don't feel bad if you simply stop pursuing some collectibles – they are all the same after some time without any real rewards.
I noticed that many mountain paths and assets on the map are also the same, which just ruin the overall impression.
The Samurai with the touchpad?
It would be a miracle to get lost with the solid map and guidelines. This game will use your touchpad function, using the 4 directions in which you can swipe to do some action. The only real use is swiping up, as that will start the wind in direction of your pointer. I raped this mechanic as I wall always going somewhere in the wrong direction, so the wind saved my lost ass. Too bad you can't use the wind to hurricane your enemies of the cliff.
Feel like calling out the rain? No problem! Swipe left. Just don't expect doing that more than 3 times. Everything lacks the depth. What is the point of mechanics you will never even use?
P.S. When you bathe your Jin (tonic), he will be butt naked! Funny thing, his ass shows better facial expression than his face.

A warm bath where you can recall some past events, or some haiku places where you can do your own – All fun for the first maybe 2 times.
RPG system – hit or miss?
As all games are trying to introduce some RPG system, I was curious what I will find here. There are plenty of moves to unlock, few stances and couple of connected techniques. All of that is what makes the fights great and fun, even thou they are really simple at their core. Just take a look in the lower right corner and observe the icons of the stances – that will give you an idea when to use which. Deflecting is saucy and I think you will love it. When you cut through after that, you will feel like a king.
You can also beat the game without any real effort and at the lowest difficulty. We came to the part where I need to point out some stuff. This game lacks its own identity. Everything here is stolen from some other player in the gaming field. Many things are like in the Sekiro, while the others feels Assasins Creedy. They took the best and made it decent, but not better! And that is what I dislike, when you steal but somehow you make it simpler/worse/less fun. Don't get me wrong, I liked the battles and that aspect of the game, but you can't beat the king (Sekiro of course).

This made me almost slit my own throat. At the end of the road is a fight, always!
Some new mechanics like resolve bars will help you heal, just be aware that you must inflict some damage to regenerate it. Being aggressive comes rewarding.
Duels!
Much has been said, but one thing still awaits silently. Duels! There are some 1-1 battles where you will fight the commanders, more important fighters etc. Look at this as a mini-arena fights, different camera angles and way cooler.
I miss more out of those, especially more boss fights. But, not everything about the battles in general is great. Camera can get in the way in smaller areas, especially when you enter a tent and try to find an enemy. When you are surrounded by multiple enemies, you want your camera to show you who will attack. But no! Often you don't know what the hell is even happening and just mashing the guard button.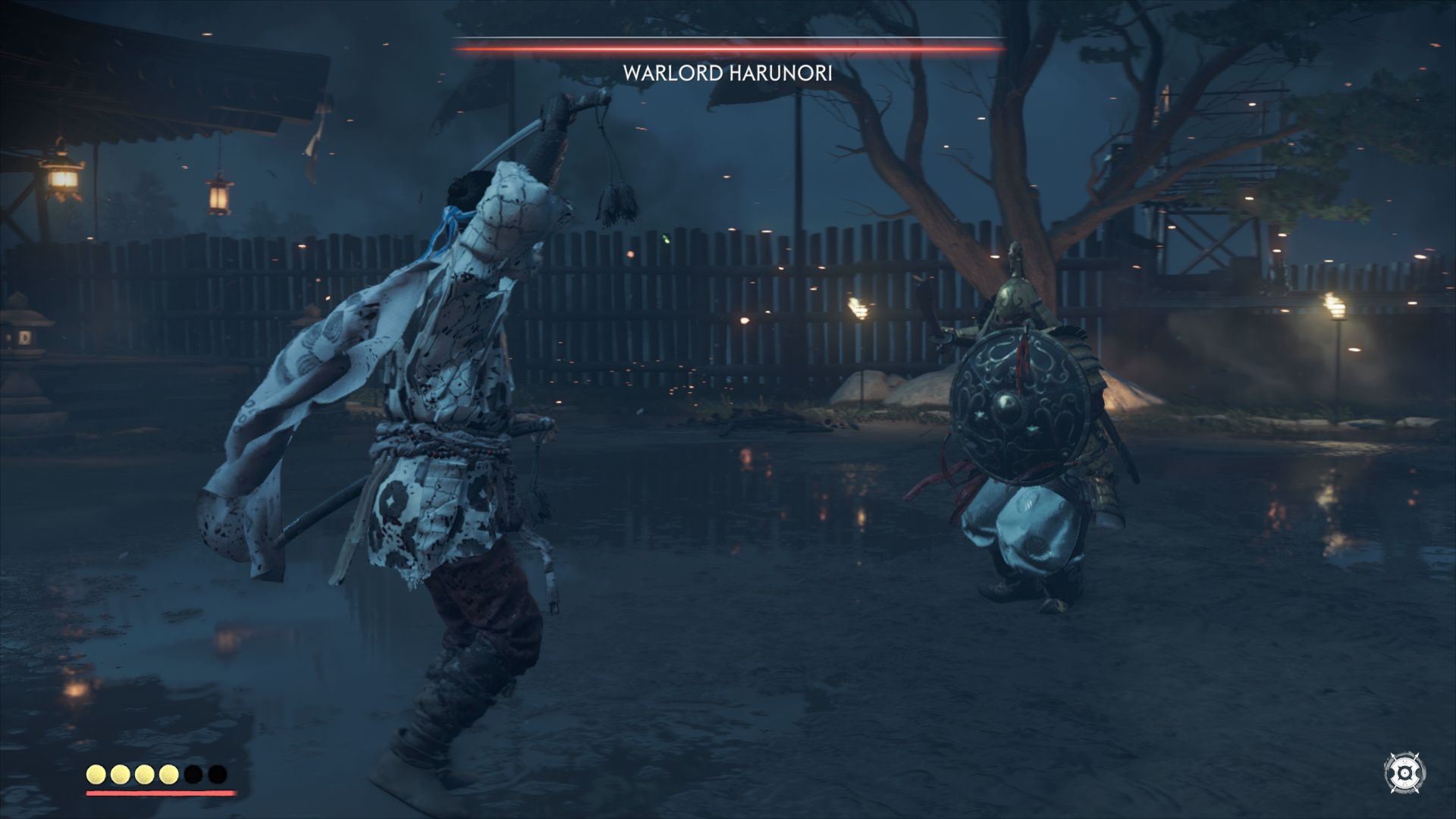 The duels are great, although you can't skep the initiation scenes and they last too much.
The remains of the micromanagement
The rest of the RPG elements falls down on collecting experience, different loots (which you will use to upgrade your weapons/armours) and that is about it, more or less. There is only 1 sword, which is a shame, but there is plenty of skins that can alter the looks of your equipment.
Charms will be your friend for the first 4 minues in the game, then you will ask why they are even in the game. Raising your HP, some perks or something else is not nearly important as it should be, especially when you will gather like 100 of those charms and there are only 5 slots.

I would love to see some weapon transformations. Not here! Only armours come with that option.
Is there anything new here?
This is one calm game. It will honour you as much as you honour her. Initiating the fight head to head is how samurais did it – that screams honour.
Unfortunately, everything here is already seen elsewhere. And I've seen and felt it stronger than here.
I must praise the loading time, teleporting across the map is extremely fast. PS4 Pro with external SSD drive had no issues with loading in few seconds when you teleport somewhere on the map. No game crashes, some small bugs here and there…Overall, not bad! Just one thing…Do the developers think that it is a disgrace to skip the cutscenes? Yeah, you can't skip them. Yey.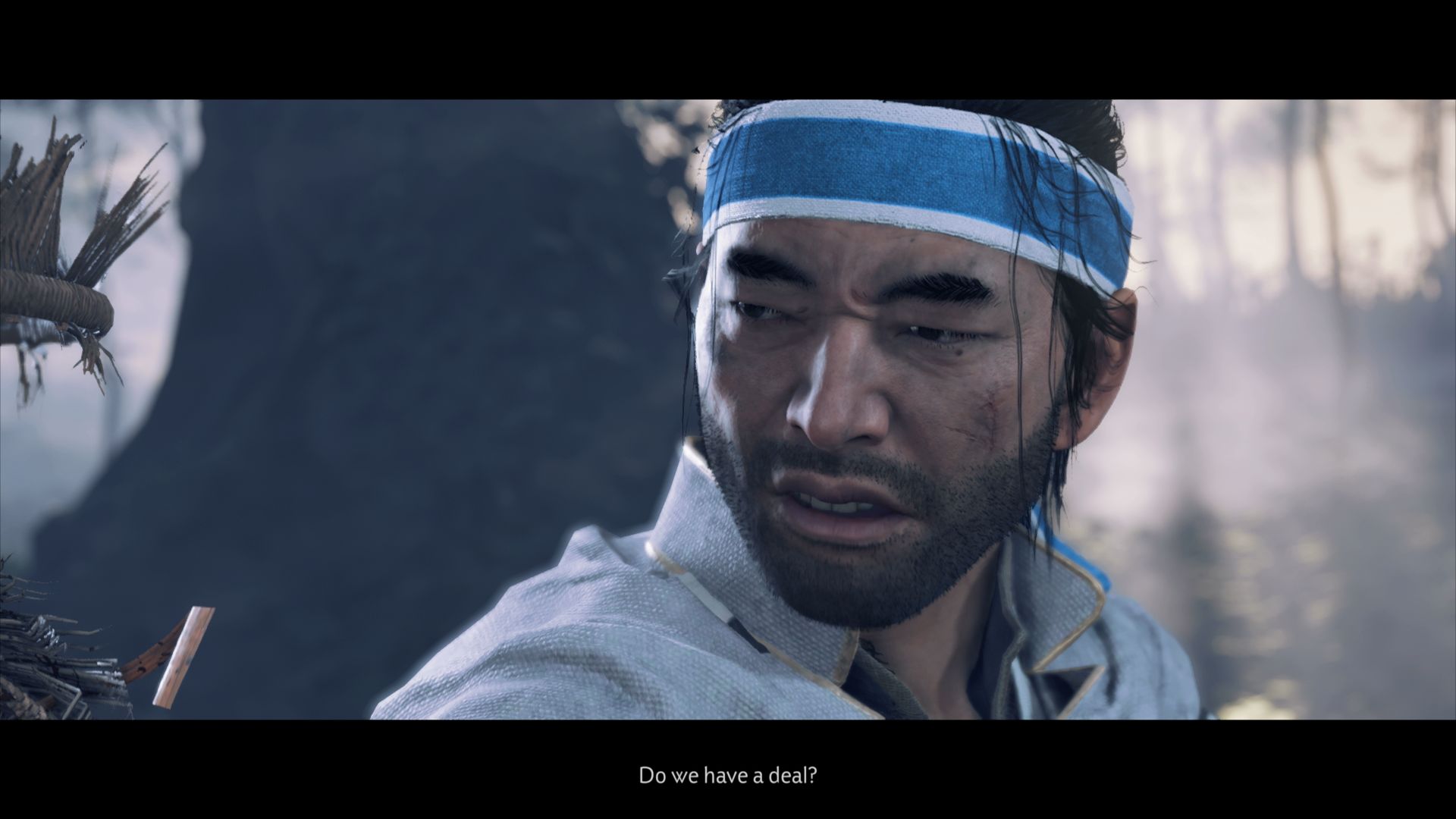 No Jin, you bearded pickled samurai with a tennis bandana.
Turn it off, let's go home
Sekiro – Ghost of Assasins Creed is yet another generic open world game, which will for sure give more pleasure if you love the setting and the theme. At the same time, content is mediocre/good. Games like these we tend to forget fast.
The last haiku
With games that are so much better and unique, that offers master class narration, Sakai Jin could be remembered as a samurai which loved the flowers and the wind. There is no one in the game besides him that stands out and the quite whispers of quality will lose their head besides so much copied content called "every room in this game is the same".
"The sun is shining, fuck the Mongols. Jin sucks."
"I recommend buying a katana and going into the wild by yourself."
Game Guide
Latest Trophy Guides
Latest Reviews
Leave a comment
Please Log in to leave a comment